THERMAL CAMERA: AT THE SERVICE OF HUMANITY
The latest technology that measures body temperature
As a specialist in security systems, PSF Sécurité advises you on the latest thermal imaging camera technologies that measure body temperature.
How does this new technology work?
Specially designed to measure body temperature, the thermal imaging camera is a tool suitable for the safety of mankind. Primarily targeting the forehead, it detects temperature using an infrared system and controls precisely in less than a second with an accuracy of 0.3 ° C to 0.5 ° C.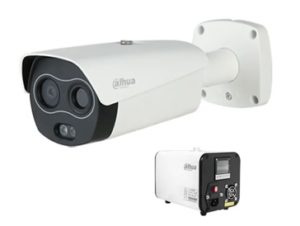 An easy-to-use and highly reliable temperature detection solution
We offer several models, including:
The wireless camera helps with manual temperature measurement of the public, ideal for monitoring a queue, since it detects up to 5 meters (respect for social distancing).
The Totem camera is an autonomous device placed at the entrance of a building ideal in large spaces such as at the entrance of a train station, an airport, etc.
The wired thermal camera is favorable to professional activity and adapts to large buildings such as the automotive industry.
The latter two are ideal for a busy passage area. Equipped with a wide angle, they detect the temperature of several people simultaneously.
Why adopt the thermal camera?
In the face of the COVID-19 epidemic we are facing, this system provides the necessary assistance for medical diagnosis. It allows you to act as quickly as possible by providing assistance and protecting others.
This security system facilitates the resumption or continuation of the activity. It creates a feeling of confidence during this deconfinement with your employees, your customers and ensures your safety.
This technology is to be adopted, contact us!